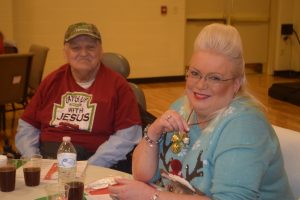 Diner's Club
"I am so glad I joined the Diners Clubs because I get a chance to fellowship with others and get information about things that we as seniors need to know."
The Congregate Meals Program, which we call "Diners Clubs," began in the 1970's for seniors who are not homebound and who would benefit from getting together with others. Diners meet at a central location to enjoy an interesting activity or program, a hot nutritious lunch, and the company of others. There is no cost, but donations are accepted.
Diners enjoy hot lunches plus:
Visiting old friends and making new ones
Enjoy recreational activities such as Bingo, chair activities, crafts, etc.
Gain information about health, social security, Medicare, housing, legal matters, food stamps, additional income and other programs and service in the community through educational programs at each meeting.
Annual Soup for Seniors bags
Annual holiday party with entertainment and gifts
Transportation may be provided to some locations.
Menus are planned quarterly for a 4-week cycle to offer variety and stimulate the appetite. Each menu is analyzed to determine that all meals contain 1/3 of the current DRI as determined by the Food and Nutrition Board of the National Academy of Science. Menus are approved by a registered dietitian. Each meal contains a 3 ounce entree, 2 servings of vegetables and/or fruit, bread, butter, milk and dessert.
How to Become Involved
Maybe you are a caregiver for an elderly parent or other senior citizen. Maybe you know someone else who might be eligible for Diners Club. If so, give us a call at LOA. We'll be glad to take it from there!
Call LOA in Roanoke at (540) 345-0451 or in the Alleghany Highlands at (540) 962-0465.
There is no charge for this program. Participants receiving a meal may voluntarily contribute based on their monthly income. A suggested scale is available at all sites. All contributions are confidential and no one will be denied a meal based on their inability to pay.
"Gives us a time of social interactions with folks of our age. Gives us a purpose to work and play with others. Encourages us in programs we enjoy participation in. Gives us healthful information. Our site manager is helpful in keeping us updated and interested activities. I go mostly for the companionship."
Adopt a Club!
Support the Diner's Club by adopting a club! Your gift can help feed a club or provide transportation for participating seniors.
Levels of Support:
Ambassador $1,000 plus
Partner $500-$999
Supporter $250-$499
Donor $1-$249
If you would like to donate, use the link on our website or make checks payable to LOA Diners Clubs and send to P.O. Box 14205, Roanoke, VA, 24038-4205. Donations are tax deductible.