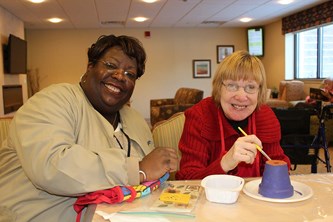 The LOA provides many services and resources from which the caregiver can benefit. The direct service is provided to the elderly relative giving the caregiver respite and peace of mind. Contact us for more information.
Adult Day Care
Provides supervised activities in a community setting at the Adult Care Center*. Adult Day Care is targeted to seniors who cannot remain alone at home during the day. This service allows the caregiver time to go shopping, run errands, or handle other business while the elderly relative is cared for. A noontime meal is available as well as snacks. The Adult Care Center can provide services such as personal care, if needed, while the person is in their care. Transportation is also provided when needed. The Adult Care Center has a dementia unit with specialized care for dementia and Alzheimers patients.
Homemaker Services
Homemaker Services include routine housekeeping and home management tasks that the senior is unable to perform themselves. Tasks include dusting, vacuuming, sweeping, shopping, laundry, making beds, washing dishes, and preparing meals, allowing seniors to live safely and independently in their own homes. Homemaker Services are only provided for seniors who are 60 and older, with low incomes, and need assistance with IADs (Instrumental Activities of Daily Living).
Personal Care Services
As part of our Personal Care Services, certified nurse aides and homecare aides help those with activities of daily living such as bathing, dressing, eating, and toileting. Aides can also assist with nail care, teeth and mouth care, transfer assistance, and meals. Personal Care Services are only provided for seniors who are 60 and older and need assistance with ADLs (Activities of Daily Living).
Emergency Transportation Services
For seniors who have a need for transportation to a doctor, pharmacy or other critical appointment. We help those who have no other source for transportation or means to pay for transportation. Individuals are transported by volunteers and taxicabs who will give escort assistance. Please see Vital Services Transportation for more information.
Counseling
An hourly session with a licensed professional counselor that helps caregivers cope with the issues that arise from providing care to their family member. This helps caregivers to cope with their caregiving responsibilities. Up to six sessions can be provided. Family Service of Roanoke Valley* provides the counseling either at their offices or in the home.
Information and Assistance
A service for caregivers that provides the individuals with current information on resources and services available to them in the community. An arrangement of services can be provided.
* Services are arranged by contacting the LOA.