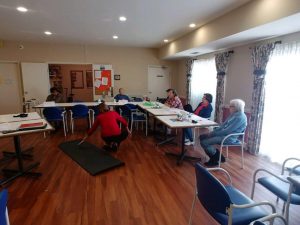 A Matter of Balance
A Matter of Balance is an evidenced-based, award-winning program designed to help older adults reduce the fear of falling and increase physical activity. The program was designed to benefit anyone concerned about falling or who has had a fall in the past or restricted their activities due to the fear of falling. People who have an interest in improving flexibility, balance and strength are also candidates for the program.

The program teaches participants to think about the fear of falling as being controllable, set realistic goals to increase activity and work on changing their environment to reduce their risk.
The workshops are facilitated by two trained coaches and are interactive. Classes are offered once a week for eight weeks and each class is two hours long. Most classes have from 8-16 members who engage in group discussion, problem-solving, brainstorming, sharing and participating in A Matter of Balance exercises. Each participant receives a manual to use during the workshop which contains the class activities and homework. A Matter of Balance exercises are also in the manual. It's not a full two hour exercise program, but exercises are a big component of the program and are introduced during the third session. A physical or occupational therapist also attends one of the classes to show how to safely get up from a fall and answer questions from the group.
Participants will learn how to:
View falls as controllable
Set realistic goals for increasing activity
Reduce their fall risk at home and in their environment
Increase balance with the exercises
Bingocize®

Combine Bingo, Education, and Exercise to Improve Your Health
The Local Office on Aging is delivering the falls prevention curriculum of Bingocize®! Bingocize® is a 10-week, evidence-based health program approved through both SNAP-Ed and The National Council on Aging (NCOA). It combines exercise and health information with the familiar game of bingo, which has shown to be a great, fun way to get seniors moving and socializing. It's meant to be played twice a week on nonconsecutive days, and each session lasts 45-60 minutes. Bingocize® can be implemented remotely or in a traditional face-to-face setting.
Upcoming Bingocize Session
Classes will be held Mondays and Wednesdays, from August 9 to October 25, 2023
At the Gainsboro YMCA, 108 Orange Ave NW, Roanoke, VA 24016
Call the Y to register: (540) 344-9622
"I've seen improvements in my strength and flexibility."
"I love to play Bingo. I like to be with people."
"As I grow older, I try to do everything I can to be active."