"CarFit was great! It was basic enough to be easily understood, but also informative and entertaining. I now feel a little more self-assured when I get behind the wheel."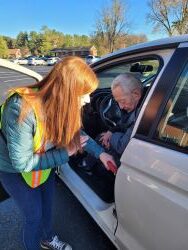 Presented by LewisGale Medical Center and the Local Office on Aging on Friday, November 3, 2023, older drivers participated in CarFit, an interactive drive-thru event held at North Roanoke Baptist Church. CarFit is a free, interactive and educational program designed to improve older driver safety, helping older drivers find the safest "fit" in their vehicles.
Trained experts showed seniors how to enhance comfort, safety, and fit within their vehicle. Registered nurses from LewisGale Medical Center, LOA's Long-Term Care Ombudsman Delaine Caldwell, and Nancy Lo, Virginia GrandDriver program coordinator at the Virginia Department for Aging and Rehabilitative Services, were the facilitators.
"It's always important to make sure that you are as safe as you can be and that you are fitting in your vehicle appropriately. People don't really think about it they just hop in their car and get going and there really are some really simple adjustments you can make to keep yourself and other people safe," Kait Moorman, Trauma Outreach Coordinator for LewisGale Medical Center said.
Having the proper fit inside your vehicle can make a big difference and help protect you and those around you. CarFit was created in 2006 in collaboration with AAA (American Automobile Association), AARP, and the American Occupational Therapy Association (AOTA). Learn more about CarFit here: https://car-fit.org/